Vinyl Siding
Homeowners deciding how to cover the exterior of their homes have a lot of choices - paint, stucco, or cedar just to name a few - but over the past few years an overwhelming number seem to choose vinyl. This may be in part to the many advantages vinyl siding has to offer.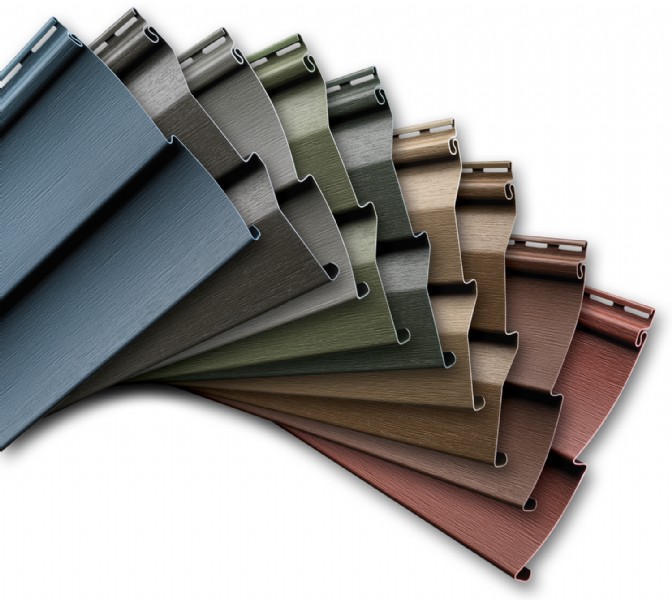 Diversity in Beauty
There is a diverse selection of vinyl siding profiles, colors, textures, architectural trim and other accessories.
You can now get vinyl siding that can effectively mimic the look of many types of wood, stone, and slate.
There is also a much wider selection of colors with improved color retention. Currently, the Vinyl Siding Institute has certified more than 350 + vinyl siding colors for color retention.
Vinyl sidings have been designed in such a way that accentuates the best features of any architectural home style, so that homeowners do not have to compromise the beauty aspect while seeking to improve the curb appeal of their homes. As a result of these advancements, vinyl sidings are being used even in historic home renovations by many historical societies in the U.S. due to the availability of a wide selection of period colors, architectural details and advantages of low maintenance.
Durability
Vinyl siding has the ability to withstand high winds and resist heat, cold and moisture, retaining its original appearance and performance capabilities over long periods of time. Able to withstand wind velocities of more than 200 mph these sidings have been well-tested even recently as they survived Super storm Sandy.
The lifetime warranties on the product as well as on installation offered by many vinyl siding manufacturers are clear testimony to its confirmed longevity.
Sustainability
Vinyl siding, as a whole, is a green option. It outperforms most other exterior cladding, including brick, in almost all life cycle stages for environmental and economic performance.
Insulated siding (also a vinyl product with the added benefit of insulation.) provides all the beauty, durability and sustainability of vinyl house siding with the added benefit of improved energy efficiency. Due to its ability to reduce thermal bridging, insulated siding has been added to the checklist of building products that can help meet the requirements to qualify a new home as an ENERGY STAR® Qualified Home.
Maintainability
Vinyl siding does not need to be painted and only requires periodic (annual) cleaning with mild soap and water.
Moreover it is not susceptible to problems associated with rotting, cracking or insect damage.
Just wash with soap and water! It does not need to be painted.
Affordability
Vinyl siding has the lowest total installed cost of any exterior cladding as also the lowest life cycle cost over the life of a home.
Recent surveys conducted have found that replacing a home's siding with vinyl siding ranked among some of the best home improvement projects for recouping cost at the time of resale.
Contact us today for your free consultation at 1-866-422-3758.